M/V MSC CARLA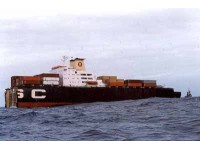 In the Matter of the Complaint of:
RATIONIS ENTERPRISES INC. OF
PANAMA, as owner, and MEDITERRANEAN SHIPPING CO., S.A.
OF GENEVA, as Bareboat Charterer of the M/V MSC CARLA, for Exoneration from or Limitation of Liability
"...landmark case in determining how US
Courts will view the product liability of
shipyards..."
Date of Disaster:
November 1997
Deposition Dates:
April 1999 to September 2001
Deposition Locations:
New York
Sorrento
Ulsan
Antwerp
Geneva
In 1984, the MSC CARLA was cut into two pieces, and fifty feet of lengthening module were added. Thirteen years later, the 25-year-old ship encountered severe weather while traveling from LeHavre to Boston with a cargo of wine, spirits and various volatile materials held within 1400 containers. The recently lengthened area split in two amidst rough seas, taking about five days for one half of the ship to finally sink into the ocean. The rest of the ship was taken to Spain. In U.S. District Court, Hyundai was found liable for the casualty, a decision that was overturned in 2005 in the Court of Appeals.