The PRESTIGE Disaster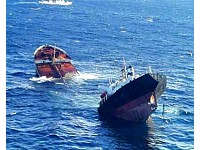 In the Matter of:
REINO DE ESPANA, on its own behalf, and as trustee, vs. THE AMERICAN BUREAU OF SHIPPING, INC.; ABS GROUP OF COMPANIES, INC.; ABSG CONSULTING, INC. f/k/a ABS MARINE SERVICES, INC.
PRESTIGE disaster of November 2002
"The environment devastation caused is at least on par, if not worse, than the EXXON-VALDEZ...(Simon Walmsley)"
"PRESTIGE oil spill far worse than thought", NewScientist (August 27, 2003)
Deposition Dates:
June 2004 - November 2007
Deposition Locations:
New York City
Houston
London
Madrid
Hong Kong
Athens
Dubai
Singapore
The PRESTIGE disaster was a result of one of its twelve tanks bursting during inclement weather off the coast of Galicia. With neither the
French, Portuguese, or Spanish governments wanting the ship to dock in its ports, the ship was running out of time. Finally, on the morning of the 19th of November, the ship split into two pieces releasing 64,000 tons of oil into the ocean and becoming the largest environmental disaster in the history of Spain. It would take an estimated $2.8 billion to clean up the 200+ miles of shoreline. 2010, the case continues.